From the beginning up until the end of the video, the coffee lover continues to flare up and has been challenging Starbucks service crew to provide reasonable justification about his claims. The rudeness level of this person is really unacceptable.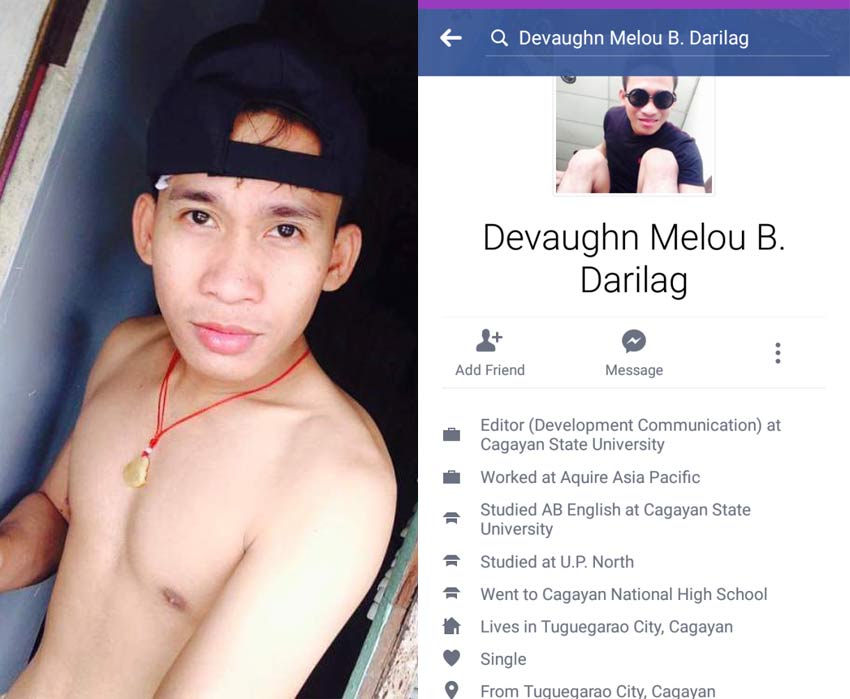 If you are to closely watch the video, you can really tell that the customer totally lost control of his emotions and it appears that he needs a thorough "anger management". Instead of giving his feedback in a calm and professional way, he resorted to a scandalous manner of communicating his complaint to the Starbucks employee.
Obviously, most of the internet users don't like how the way he treated the Starbucks service crew resulting to tons of negative criticisms including personal death threats, insults, bullying, and other form of humiliation in social media.
It's not yet verified as to what particular branch of Starbucks did the violent confrontation occur.
The gay in the said video has been identified by the netizens as Devaughn Melou B. Darilag, a graduate of Cagayan State University(CSU).
Significant personal details of Darilag were gathered by netizens which were readily available from his social media account. In a screenshot taken from his profile, he was previously employed in a call center company. He graduated from Cagayan State University.
Self-proclaimed online case investigators (netizens who seems savvy in providing unsocilited opinion) had a couple of insights on the viral video. The dominant views, however, focuses on the personal attack and hate campaigns against Devaughn Darilag.
Thousands of netizens considered this story as a very good example of "digital karma". They said that many "keyboard warriors" on the internet might further damage his reputation. As a matter of fact, someone shared a screenshot of an old post of Darilag which can now be applied to himself.
Bading na ng warla sa barista tukoy na! Siya ay si Devaughn Melou B. Darilag Certified #TALAKERA na WALA sa LUGAR! #StarbucksEksenadorangIlokano

Posted by Talak Superstar on Monday, November 14, 2016